The small Thuringian town of Bad Langensalza has a wonderfully renovated old town. During our visit, I'm really impressed. We went on a guided tour with Mary Fischer. Actually announced as cellar guidance we have also seen a lot above ground.
Gardens at Bad Langensalza
Bad Langensalza is famous for its gardens, for example the Japanese garden. Already on arrival we are welcomed by green and partly really shady, decentralized parking lots in the city. Great! But the well signposted cycle paths also lead directly through the city centre. But we have not seen any bicycle parking facilities or eBike loading places.
Town hall and cellar
The cellars of the city speak of the region's rock, the travertine. There is a traditional travertine plant in Bad Langensalza. Many famous construction sites have already been supplied from here. Under the town hall there are huge cellars built in the travertine or from Travertin, which can be visited. The town hall itself is of course also made of travertine and has an interesting carillon with 32 bells.
Glockenspiel at the town hall
It can play 14 different melodies and sounds daily at 12 and 18 o'clock. Five figures about 80 cm high appear in the triangular gable on a rigid segment of a circle, representing personalities from Bad Langensalza. An advancing trumpeter announced Hermann von Salza (c. 1165-1239), followed by Christoph Wilhelm Hufeland (1762-1836) and Friedrich Gottlieb Klopstock (1717-1803 German poet).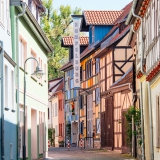 Further highlights in Bad Langensalz are the Apothekermuseum, the Friederikentherme and of course the Rumpelburg. It is an indoor and outdoor play barn for children and families.
plantations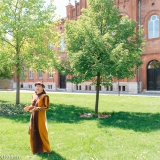 A special feature in Bad Langensalza are the many trees marked with a sign, which refer to the donors and the donation event. Thus Bad Langensalza has come to many tree plantations and according to Mrs. Fischer inquiries come again and again to the green order office of the city. A beautiful initiative of the citizens of the city.
Treetop Trail in Hainich
Not far from Bad Langensalza in Hainich is the treetop path. Bad Langensalza is also the seat of the Hainich National Park Administration.
The Lutherweg, the half-timbered road and the Unstrut cycle path lead through Bad Langensalza.
Picture gallery Bad Langensalza (click to enlarge and browse):