Garden of the Humble Administrator (Zhuozheng yuan) in Suzhou
entrance
The entrance to the garden is once unspectacular. Through several circular doors it goes in and suddenly you are faced with a pond with a glimpse into a world of its own. The garden is more than 50,000 square meters and
Garten des bescheidenen Beamten in Suzhou
is next to the gardens of the
Summer Palace in Beijing,
Manchu residence in Chengde
Liuyuan Garden of Suzhou
to the four most beautiful gardens in China.
story
The complex was built in the Tang Dynasty (618-907) and had a very checkered history. It belonged in the Yuan Dynasty (1279-1368) to a monastery. In 1513 it came into the possession of the former official Wang Xianchen. The plant was in the 16th century was given by him in order. However, his son lost the garden at a match bet. Thus, the garden keeps changing its owner, and finally divided.
Bonsai im Garten des bescheidenen Beamten in Suzhou
Only in 1949 the subdivisions were abolished and open the garden for visitors. In 1977, the Garden of the status of UNESCO World Heritage received.
layout
In the middle of the Garden of the Humble Administrator you will find the hall of widths Fragrance (Yuanxiang Tang). From there you have a great view over the pavilions, bridges and water landscape of the garden.
Pavillon im Garten des bescheidenen Beamten in Suzhou
Water is also the main element of the garden next to the pavilion on the characteristic rock formations. The pond in the center is surrounded by several areas with bamboo seats in pavilions and under trees. Also impressive are the bridges and paving of roads.
To the west is the main building with a hall. This is a small museum set up.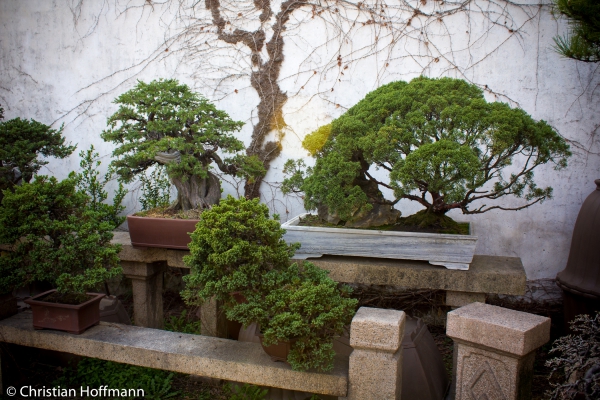 Bonsai im Garten des bescheidenen Beamten in Suzhou
A bonsai garden round off the visit.
Translation
You are reading kantega.de in English that we have only translated automatically. We have many English speaking users. We would appreciate if you can help us native speaker to translate the page into English. Help make us better kantega.de. Send us a better translation of this page. Thank you.